2016-2018
EXPEDITIONS ARE NOW OPEN FOR RESERVATIONS


Why travel with us?
We each have been diving for 30 years and have been leading
international dive expeditions for 18 years. There is salt water in our blood for certain.
We really understand how valuable your travel and vacation time is
and our goal is to try making sure you get the very most out of every moment.
Those who know our trips understand that we are accessible – we are there for you –
so feel free to pick our brains on dive and photo techniques.
We will be offering relaxed presentations on working with the marine life,
image capture techniques on land and underwater
as well as some insight of Adobe Lightroom & Photoshop usage.
Feel free to join in or take comfy nap – this is YOUR trip – no camera or work required.
I hope you get a chance to join us!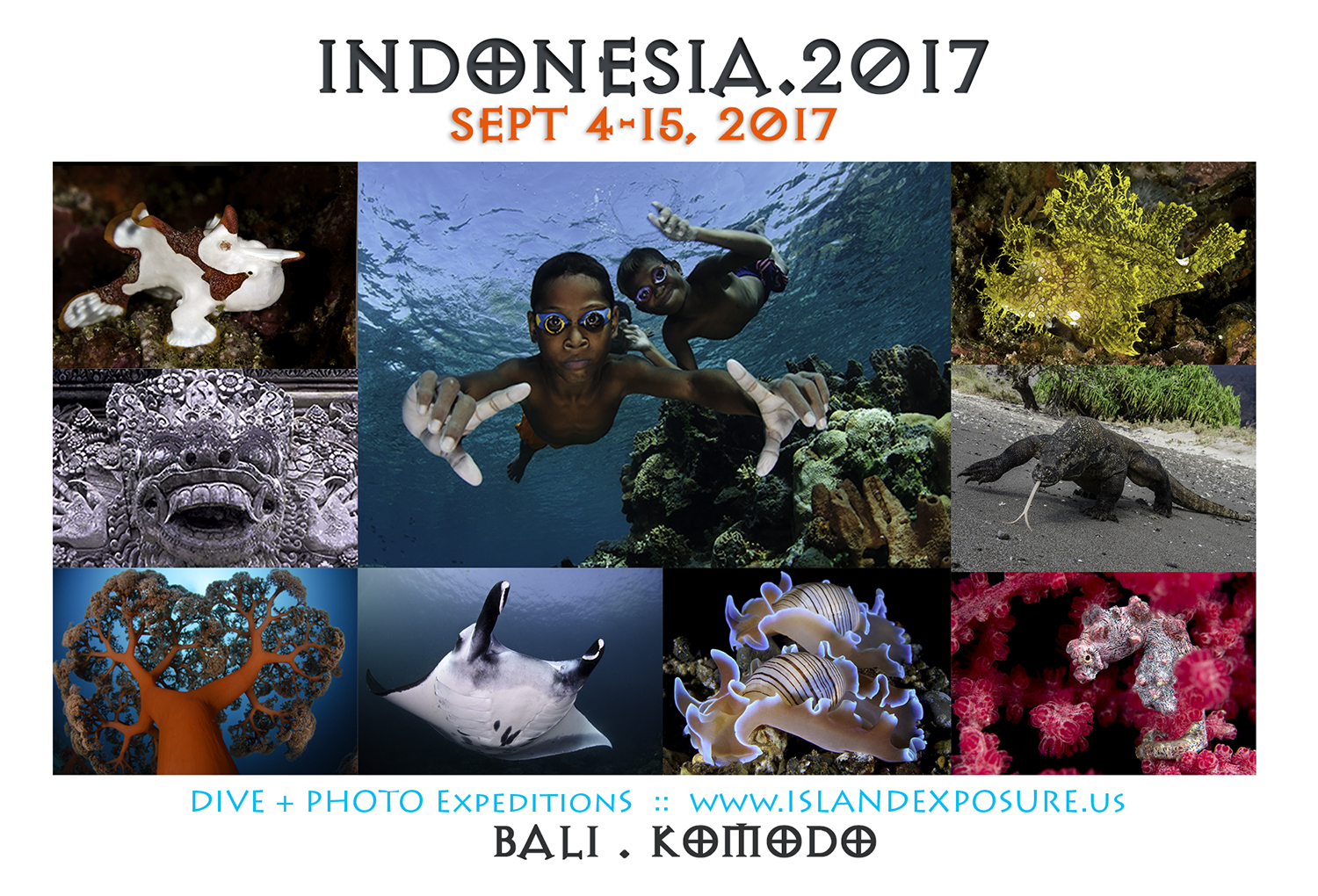 Bali :: Komodo INDONESIA


SEPTEMBER 4-15, 2017 :: $5250 per person + SEPT 15-19
add-on of $750pp (not required to book both)
$6000 for both (16nights!) inclusive of Komodo National Park fee and Nitrox!Cruise begins in Bali and ends in Maumere, Flores. We then take a short flight back to Bali where we will have transfers set up to indulge in our 4 night add-on dive package to Tulamben where you can relax for a few more days and enjoy the wreck, reefs and muck sites just footsteps from your deluxe room. Of course this is not a required add-on, you are welcome to enjoy other parts of Bali or head home



Banda Sea :: Raja Ampat INDONESIA


MARCH 26- APRIL 6, 2018 :: $5,500 per person +
April 6-10 : add-on of $1,475pp (not required to book both)
$6975 for both inclusive of Banda Sea and Raja Ampat Park fees and Nitrox!
The cruise begins in Ambon and work our way through the best sites into Raja Ampat and end at the Papua Paradise Eco Resort located only 2 hrs from Sorong. Those of you not doing the add on can continue on to Sorong aboard the Pindito and catch you flight home. The rest can enjoy a more relaxed pace of diving the local reef, muck and manta sites and even go on a birding expedition for the rare Bird's of Paradise found in the region.
Trip INFO click HERE